Start of content
Our Fly Well program is a series of wellbeing measures designed to improve safety and help you feel comfortable about flying again.
Thank you for respecting each other and our team, and helping us create a safe and positive environment for everyone.
Keeping you safe every step of your journey
Before you fly
Flying well starts before you even get to the airport. With all the key information at your fingertips from the get-go, you'll be better prepared for an enjoyable, hassle-free trip.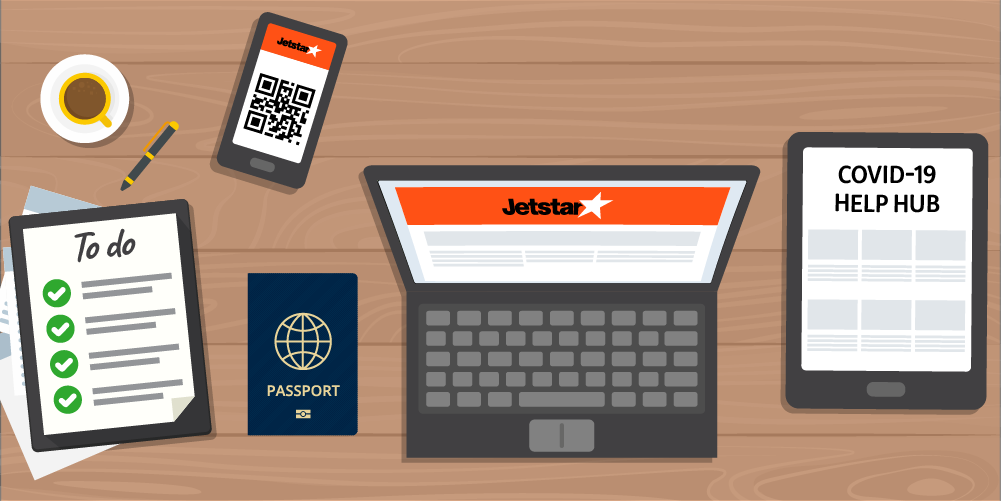 Pre-departure emails. Sent in the lead up to your departure, our emails explain what you can expect during your trip with us. If you're travelling internationally, you'll also get reminders to check government requirements and prepare any documents that are needed for travel.


COVID-19 Help Hub. We've created a 'one-stop information shop' answering all your questions about travelling with us in these changing times.


Back to top
At the airport
From check in to boarding, we've introduced a number of health and safety measures to limit contact and provide extra peace of mind at the airport.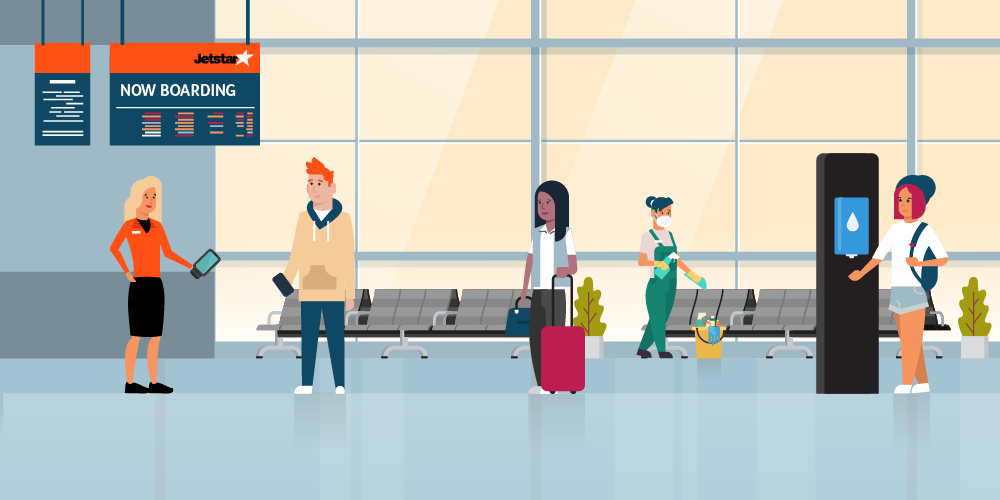 Contactless check-in and bag drop: Online check-in is available for selected flights. If you're unable to check in online, you'll need to check in and drop your bags at the airport.


Contactless payments. To reduce contact and help you get on your way quicker, we have gone cashless at all Australian and New Zealand airports. We accept card and contactless payments (all of which are fee-free).


Self-scanning of boarding passes. To further reduce shared contact, we ask that you scan your own boarding pass. For best results, please ensure your screen brightness is set to high.


Social distancing is encouraged throughout the airport wherever possible.


Face masks.  Face masks may be required at some airport terminals depending on government requirements.


Back to top
On the plane
Sit back, relax and rest assured: not only is the risk of in-flight transmission very low, but our onboard wellbeing measures are designed to further protect your health while flying.
Face Masks.  Some destinations require you to wear a mask during your flight. Ensure you check the latest government requirements before you travel. Please bring your own mask. Masks are also available prior to boarding as part of our complimentary Fly Well packs, which can be collected as you board or onboard.


Seating. While you'll most likely be seated next to someone, the seating configuration on board our aircraft provides a natural barrier, as passengers do not face each other. We also ask that you keep your movement around the cabin to a minimum.


Cabin air. Hospital-grade HEPA air filters are fitted on all Jetstar aircraft, which remove 99.9% of all particles including viruses. Cabin air is also refreshed every few minutes, ensuring the highest possible quality.


Enhanced cleaning. We've adopted even higher standards of cleaning on board, with a disinfectant effective against coronaviruses and a focus on frequently touched surfaces. Our team members are trained in the latest hygiene protocols.


In-flight catering All your favourite hot meals and snacks are back! With our modified card-handling procedures, you can buy on board with confidence. (Or pre-order to ensure you get the meal of your choice).


Back to top
How you can stay healthy when travelling
Here are a few simple actions you can take to stay healthy while travelling.
Wear a mask on board if required
Wash your hands regularly
Use hand sanitiser
Cover your sneeze or cough with your arm
Face masks: what you need to know
You must wear a face mask at the boarding gate and on board for:
international flights whenever it is a government requirement for your destination
From 11.59pm 12 September, 2022, masks are no longer required on New Zealand domestic flights.
Please bring your own mask if required.
Your face mask needs to cover your mouth and nose and fit securely.
Your mask can be removed during eating and drinking, but please make sure it's on when crew are in your area.
Masks are not required if you're under 12 years of age or have a medical exemption.
---
Have you tested positive for COVID-19?
You should defer your travel plans if you have tested positive or you're showing symptoms of COVID-19 in the week leading up to your flight.
Please contact us via Live Chat to discuss your options.